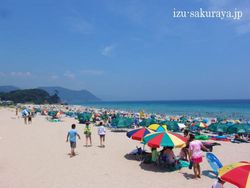 As my daughter wanted to go to her friend's home I took her by car, and  went to the beach to take photos.
This morning our customer said that the water was very warm yesterday, so I asked a lifesaver about that.
She answered, "The temperature was 24 degrees this morning, so now it's 25 or 26 degrees."
It was 19 degrees one week ago, but the water is getting warmer and warmer.
I think it is very comfortable to get into the water here in Shirahma.