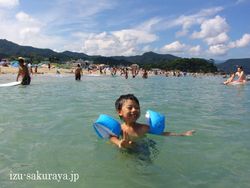 I didn't think to do it, but as we don't have dinner for our customers today, I went to the beach with my son.
"Let's go to the beach, Yuuki."
"Really? "
My son loves swimming in the sea, but we can't go many times in summer because we are very busy this season.
It was very hot today too.
My son was very excited in the water….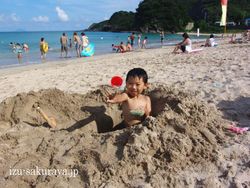 After swimming in the water we played on the beach together.
I brought some toys for my son and we dug a big hole that my son can get in.
The sand on this beach is very soft, so we can dig easily.
We spent 3 hours on the beach we decided to go back home.
I think it was very great time for my son, and me as well.
When can we go swimming next time this summe?