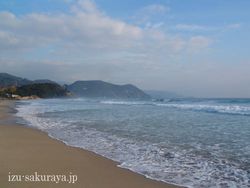 I went for walking this morning after 3 days.
When I came back from Sotoura Beach I found out a dog on Shirahama beach.
"That's my friend's dog, isn't it?"
Yes, I was right. There was my friend walking, who lives in Shirahama. He is Australian and spends his holiday in his second house for one week every month.
I walked on this beach for a while and came back home.
In late afternoon, when I was cooking our dinner in the kitchen I saw a beutiful scenary through the window…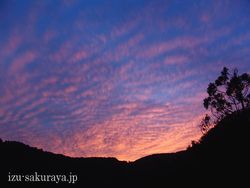 Look at this!
I took this photo at the guest house on 2nd floor.
The contrast of blue sky and pik clouds was really gorgeous.
In this season we sometimes can see this scenary in Shimoda.
But you can have more better experience with sunset on the west side of Izu peninsula.
Here is a website of Nishiizu town and PDF file for the information of sunset and other things.
Why don't you drive with sunset?