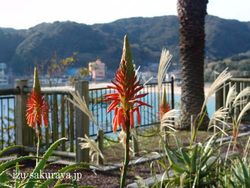 Have you ever seen this flower?
This morning I went for waling to the next beach "Sotoura."
When I departed from Sakuraya at 9:00 am it was very warm, so it was very comfortable for walking today.
At the view point of Sotoura I found out the red flowers.
Do you know this?
This is an aloe.
In Shimoda we don't have any snow, so this aloe can have flowers in winter.