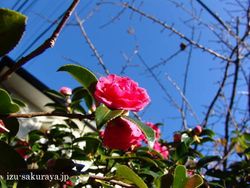 Do you know this blossoms?
The last owner of Pension Sakuraya loved Karaoke, and the 1st song which he learned was "Sazanka no Yado" over 25 years ago. And he used to sing this song when he went to Karaoke after that.
That's why his wife planted this in the garden of Sakuraya. This is called "Camellia Sasanqua", "Sazanka" in Japanese.
This season this tree has a lof ot buds, and all of them started to bloom.
By the way I went to the beach this afternoon….
This early morning, my daughter leave home at around 4:00 am, because she had a competition of table tennis in Fujinomiya city.
And she came back at around 4:30 pm, so I went to the bus stop to pick her up.
After that I went to the beach to take photos.
At that time the sun was about to set into over the west  mountains.
I was able to see Izu Oshima island on the ocean in the orange sky.