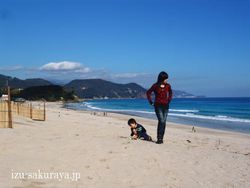 It has been sunny and very warm here in Shirahama for 3 days.
Yesterday it was Sunday and my children didn't have a school, so we went to the beach to take photos for New Year Card.
I tried to take it with my 3 children, but my son was in a bad mood when I was taking photos.
And my second daughter became in a same mood. ( A girl in this photo is my first daughter.)
That's why I wasn't able to take good photos after all.
We don't have good days like this so many times in this season, but ….