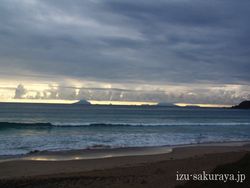 Last night we had a lot of thunder at around midnight.
I cut the power of my computer in a hurry, but it was not big deal and there was no problem.
And this morning it still was cloudy here in Shirahama, but I was able to see Izu Seven Islands on the horizon.
It was sunny over those islands, I guess.
By the way, when I went to kindergarten to pick my son up I found out the flowers there.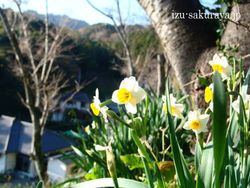 Have you ever seen these flowers?
This is Narcissus, and it is called "Suisen" in Japanese.
In this season this flower started bloom and we can see this until the end of January.
So we have Narcissus Festival in Shimoda from December 20th.
If the weather was good we would be able to get a beautiful scenary with good smell of Narcissus there.
It takes only 15 minutes from Pension Sakuraya.
Why don't you come to Shimoda this winter?
<LInks> Narcissus Festival in Shimoda