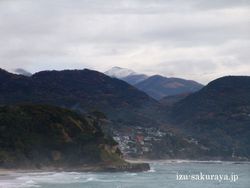 My daughters usually go to school by bus every day, but I overslept this morning. So I took them by car.
When I was coming back home I was going to take photos of Shirahama beach as usual.
When the weather is good and the air is clear we can see Mt. Amagi over Shirahama beach.
But I found out that the mountains were white this morning.
I thought it was cloud on the mountains at first, but actually it was snow.
Wao!! We usually have snow after January in Izu peninsula, but we had the first snow on this season this moring.
That's why it was very cold this morning in shimoda.