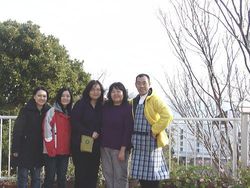 They came from Singapore and stayed at Sakuraya for 2 nights.
On the 1st day they arrived early to leave their luggages and went to Shimoda downtown.
On the 2nd day they went to Kawazu Seven Waterfalls, and Izu-kogen to go to Teddy Bear Musium.
On the last day they left their luggages at Shimoda station and went to Irozaki Cape.
When they had dinner and breakfast we were able to have a good talking and comunication.
Thank you for staying at Sakuraya, and see you again.