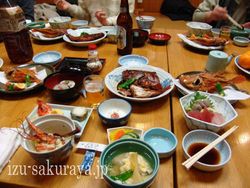 Yesterday we had a meeting with the owner of Pension came from the other prefecture, Yamanashi, Nagano, Tochigi and so on.
After that we went to the downtown for dinner with them.
I had already booked a restaurant called "Nakagawa", and started a party from 5:00 PM.
The restaurant served us the Japanese style fish meal like this.
Most of the owners live in the mountain, so they were pleased with this dinner.