On the way to Pension Sakuraya from Route 135 on seaside we can find out Sakuraya's building.
I took this picture at the entrance of Sakuraya building.
In these days the Sakura trees which are fully blooming welcome us.
Almost of every customers are surprised and pleased with this……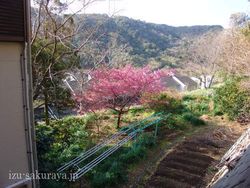 Kawazu Sakura festa is getting into the best period of blooming in Kawazu town and Minami Izu town.
Kawazu town tourist association website says it is getting from 30% to 50% blooming and will be in the next stage on this weekend.
P.S
This second picture of fully blooming Sakura in the field next to Sakuraya building was taken from the entrance this morning.
Pension Sakuraya in Shirahama, Shimoda, Japan