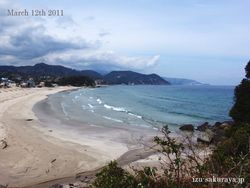 Yesterday massive earthquake hit North-Eastern Japan, and a lot of places and people were affected.
The coast in Shimoda was warned against Tsunami in the afternoon yesterday, and we had Tsunami only 80 centimeters in Shimoda harbor.
But Tsunami warning was cancelled today.
I went to Shimoda downtown for shopping and took some pictures on the way.
This is Shirahama Beach in Shimoda, and there was no damage there.
We had a lot of messages and e-mails from all over the world since yesterday, but we all are safe!
Thank you very much, everybody!!!
Look at the pictures which I took this afternoon on my Facebook.