I went to Shimoda downtown this morning, and I took the pictures when I came back home at around noon.
Today it was the most beautiful day in these days and I could see the tropical blue in Shimoda.
I took this picture at "Miharashi-Hiroba" in Shirahama.
The water was really clear like one in southern islands.
OK. I show you an another photo….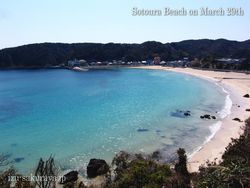 This is the Sotoura Beach located between Shirahama and Shimoda downtown.
This beach is almost cove and they don't have big waves there.
So a lot of families come to this beach in summer.
I love Shimoda!
Shimoda is the best place in Japan!!!