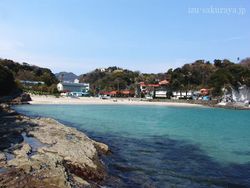 It was very warm here in Shimoda today.
I went to Shimoda downtown for shopping with my family by car, after that I walked around Nabeta-Hama Beach, Shimoda Park and downtown.
There are 9 beaches in Shimoda ,but this is a smallest one.
They don't have big waves here because this beach is located at the bottom of Shimoda bay.
So, even if the other beaches are closed due to high waves only this beach often is opened.
I show you the other pictures which I took this beach and Sakura blossoms in Shimoda today.
It takes about 15 minutes by car from Pension Sakuraya in Shirahama.