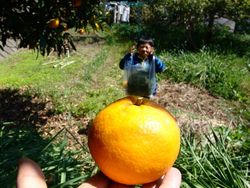 It was windy, but very beautiful day in Shirahama, Shimoda.
My son and I picked oranges called Natsu-Mikan in our garden.
This orange is a little sour taste but very delicious.
We make a home made wine with this orange every this season, and serve our customers as an aperitif.