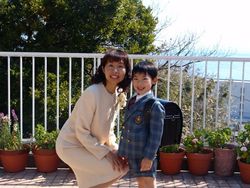 Today we had an entrance ceremony of Shirahama Primary School.
Yes, my son is on the 1st grade of this school from today at last.
Befoe going to school I took a picture of my son and wife at Sakuraya's balcony.
It was very warm and beautiful day, and we had a very good ceremony.
You can see the other pictures here.