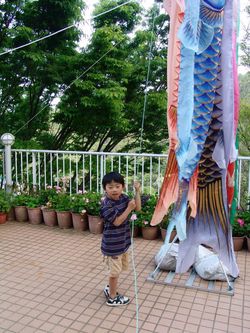 In Japan, we, Japanese set up "Koinobori", Carp shaped flags, from April to the early month of May.
Koinobori are flown traditionally to celebrate "Children's Day" takes place on May 5th.
We, Japanese decorate Koinobori to pray that sons or grand sons grow up healty and strong.
According to the story of china, when the carp finishes climbing up the waterfall it become a dragon at the dragongate.
So Japanese parents hung Koinobori up in the sky for children rise up like a dragon in the future.
Yesterday my son, Yuuki and I set up Koinobori in our patio together.