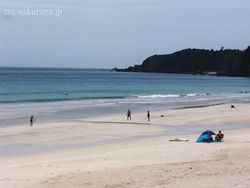 (Click the upper title to see today's photo!)
It was sunny here in Shimoda again today.
I went to the beach to take photos, but the water was not so blue since the sky was misted.
Anyway there were some people on the beach and they were playing and swimming in the water.
The weather forecast says it will be rainy here in only early moring, and will be sunny the day after tomorrow and after that.