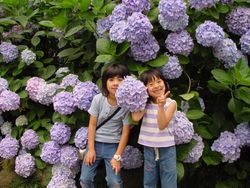 Last night, when I was looking for the photos in my computer I found out this photo.
I took this photo in June 2003. It means I took this 8 years ago.
In those days my daughters were 7 years and 4 years old, and I used to go to many places with them. But now they don't…..
Anyway I took this photo at Shimoda park in Shimoda city.
Yes, Ajisai ( Hydrangea ) Festival is taking place from June 1st to 30th…….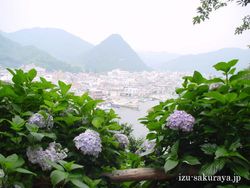 Shimoda park is a big mountain surounded by the sea, and there are many good view points where we can see the Shimoda downtown and the Shimoda bay.
There are more than 3 million hydrangeas in this park, and We can walk around on the walking paht in this mountain.
They say the peak season of Hydrangea would be the end of June.
Why don't you come to Shimoda to get this beautiful scenary?
Information of Ajisai Festival in our website