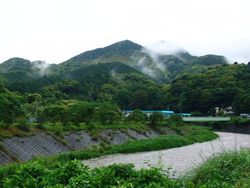 Today it was rainy this morning I took my elder daughter to the high school by car.
I usually take the road through Shimoda down town and the seaside to go back home, but I took the different way through the mountain.
When I was driving I found out the clouds between mountains.
It seemed as if the mountain was breathing deeply and slowly….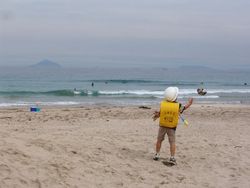 In the afternoon I went to pick my son up.
We dropped in to the beach as usual on the way home.
There were some surfers in the water, and we could see the Izu seven islands over there.
In this season the sky is covered with gas the water is not real blue, but it was very clear.