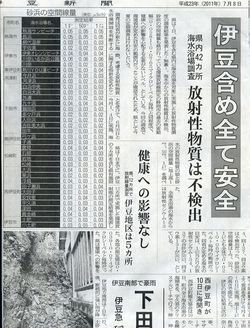 Hello, how have you been?
Since the beginning of this month we have been very busy, so I couldn't posted the articles.
By the way Shizuoka Prefecture announced the result of the radioactive level of the sea water and the sand on the beaches in Shizuoka Pref. on paper today.
It reported that there was no radioactivity in the water and there was minuscule amount of it in the sand.
And it said there is no problem to swim and play on the beach.
It  was very good new for us and made us very happy, and we can welcome the customers during this summer.
(Sorry, this article is only in Japanese.)