Yesterday the rainy season was over here in Tokai area in Japan, and today it was over in Kanto area too.
I was wondering that the rainy season had been over yesterday, because it was almost cloudy here in Shimoda.
But summer has come to Shimoda at last.
When I was cleaning the guest rooms I could see the blue sea through the window.
So I decided to go to the beach to take pictures.
I took this on the way to the nearest beach "Shirahama" from Sakuraya.
Look at that gorgeous color of the sea!
It's amazing color, isn't it? ….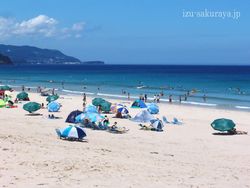 I took this on the beach.
It was a first time to see a lot of people on the beach like this.
All of our guests went to the beach to swim.
The weather forecast says it will be sunny for next week.
We will have a lot of people more tomorrow due to Sunday.
You can see the other pictures here.