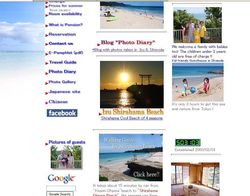 We got into August today at last.
This afternoon, when I checked our website I found out that the access counter said 503,103!!
I made this website by myseld and started to run it on March 1st 2000.
So I have been runnning our site for more than 11 years.
Thank you for coming and visiting our website.
I am going to post various information and photos into our site.
Click here to see the pictures which I took on the nearest beach today.