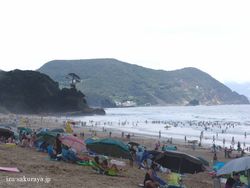 It was No Swimming here in Shirahama yesterday because typhoon is coming to Okinawa and we had big waves.
This morning it was sunny, but the weather was changing all day today.
The people on the beach were using beach parasols to protect their staff from the rain.
The weather forecast says it will be sunny tomorrow.
I hope we will have a sunshine.
Click hree to see the other photos.