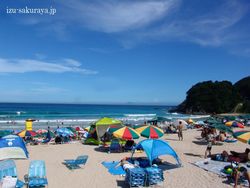 Summer came back to Shirahama again.
In these days it had been cloudy, rainy and windy here in Shirahama, but we could see the blue sky and sea today.
I went to the nearest beach "Shirahama" with my son, Yuuki.
We still had big waves, but there were a lot of people on the beach.
The weather forecast says we will have a shower in early morning tomorrow, but it will be sunny and hot after that.
It's a good news for us and our customers.
By the way I show you my son after long time …..