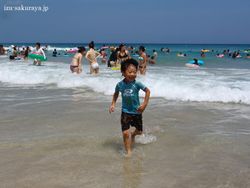 As we didn't have many guest rooms which we have to clean I went to the nearest beach Shirahama with my son.
It was very beautiful day and there were a lot of people on the beach.
The water was warmer than last time, July 10th.
It was very comfortable to get into the water under the sun.
Click here to see the other photos.