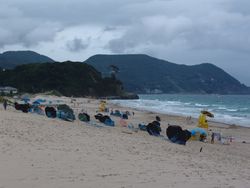 We had been very busy in last week, and we were not able to go to the beach to take pictures.
Since 2 days ago it had been cloudy, windy and cool here in Shimoda.
We still have a lot of customers in this season, but we are very sorry that they can't have a good time on the beach in these days.
We hope we will have sunny days again as soon as possible.
Pension Sakuraya in Shirahama, Shimoda