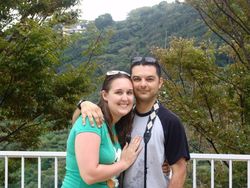 They came from Tokyo and stayed at Sakuraya for 2 nights.
During their stay they went to the beach, Shimoda Aquarium and some places in Shimoda.
As it had been sunny and very hot here in Shimoda, they could have a great time.
When they checked out he said,
"We came here for our 2nd wedding anniversary.!
Congratulations!!
And thank you for choosing our Pension for your memorial trip!