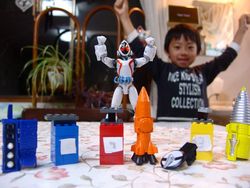 On every Sunday morning Kamen Rider "Fourze" is televised from 8:00 AM.
My son, Yuuki usually doesn't wake up early on weekdays, but he wakes up by himself on only Sunday morning.
Kamen Rider Fourze is a new hero on TV started from the beginnning of this month.
This hero can wear various weapons or tools by using switches on his belt.
This afternoon Yuuki was making somethings in his room and came to the kitchen to show them.
Yes, he made 3 switches with toy, legos, by himself.
He loves Kamen Rider!!!
Website: Kamen Ride Fourze (only Japanese: Try to put on the switches on this site.)
Kamen Rider Fourze Episode 1 on website