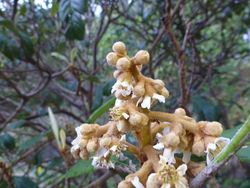 Do you know what kind of blossom this is?
I took this picture through the window of room #104, the Japanese style room.
I think those who stayed in this room have seen these in early summer.
It will be a fruit in every June.
The answer is loquat.
I show you the picture of this fruit……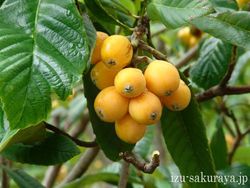 In every  June we can eat these sweet loquats and make wine by ourselves.
This wine is very dlicious and we serve it for the 2nd night dinner.
But we have to wait more than 7 months from now to get these fruits.
It's too long!!
Pension Sakuraya in Shimoda, Japan