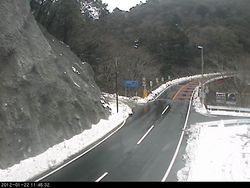 This weekend we had a lot of snow in Kanto area in Japan.
This picture is from Live Camera of Amagi mountain.
Izu peninsula is very warm even in winter, but every winter they have a lot of snow some times, because the highest point of Amagi mountains is about 1,400 meters high.
But we don't have snow in Shirahama, Shimoda in this condition.
Pension Sakuraya in Shirahama, Shimoda, Japan