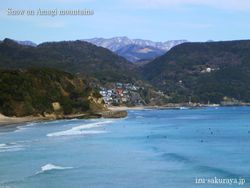 This morning, when I went down the hill to go to Shimoda downtown I found out that a lot of snow remained on Amagi mountains and Izu Oshima island.
The view from Shirahama beach looled like Alps with snow.
Click here to see the other photos which I took this morning.
Pension Sakuraya in Shimoda, Japan