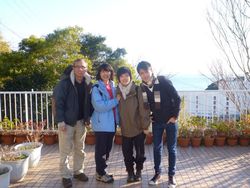 They came from Taiwan and stayed at Sakuraya for the 1st time.
On the 1st day they went to Tsumekizaki cape in Shimoda to see the daffodil flowers, and they were going to Amagi mountains after checked out.
How did you like it?
Did you still have a lot of snow on the mountain?
We appreciate we could have a happy and great time with you.
Thak you very much for staying.