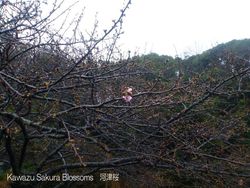 It's not only rainy and windy, but also warm here in Shimoda this morning.
This is Kawazu Sakura tree in a parking lot in Shirahama.
It has just started blooming.
This season Sakura blooming in Izu peninsula is too late due to the coldness.
Is the warmth this morning a good helper for them to bloom?