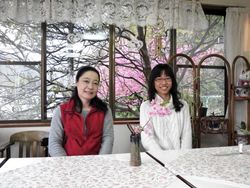 They came from Shanghai in China and stayed at Sakuraya for 2 nights.
This time it is a 3rd time for them to visit Japan, but they came to Shimoda for the 1st time.
Before coming to Shimoda they stayed in Shuzenji, and came to Shimoda by taxi.
They went to Kawazu Seven Waterfalls and Kawazu towm to see Kawazu Sakura blossoms.
In Shimoda they took the sightseeing boat in Shimoda harbor and Shimoda Ropeway, and went to Shimoda history museum.
As the daughter studies Japanese we could have a very good comunicatin in Japanese.
Thank you very much for staying with us.