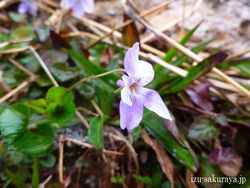 Since this morning it has been raining here in Shirahama.
But, as we don't have wind it's very quiet.
We can hear the singing of birds from the mountain, and the booming(?) of the sea as well.
When I walked around I found out a small violet in fron of the entrance of our Pension.
This flower is also telling that the spring has come.
Pension Sakuraya in Shimoda, Japan