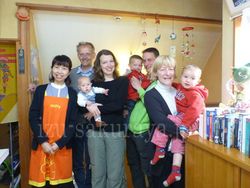 They are French family and have been in Tokyo since 5 months ago.
They came to Shimoda for the 1st time and stayed at Sakuraya for 2 nights.
On second day they went to the nearest beach "Shirahama" in a little bit strong wind, but did you have a good time here in Shimoda?
They will stay in Japan for 3 years.
We look forward to meeting you again.
Thank you for staying with us.
Kids friendly accommodation: Pension Sakuraya in Shimoda, Japan