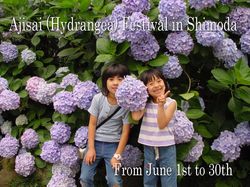 This festival is taking place in Shimoda Park between June 1st and 30th.
This is the largest scale in Japan, because there are more than 150,000 hydrangea trees in this park.
The best time to see is after the middle of June, they say.
Come and visit Shimoda this month!!
Click here to see the web page of Hydrangea Festival in Shimoda.
Kids friendly guest house in Shimoda, Japan Pension sakuraya