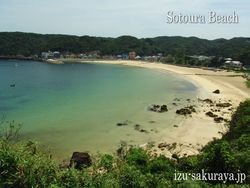 It was sunny again in Shimoda today.
When I went to the downtown for shopping I took some photos of Shirahama Beach and Sotoura Beach.
This is Sotoura, 5 minutes driving away from Pension Sakuraya.
They usually don't have big waves, so this beach is popular with families that have small child.
Click here to see the other photos which I took today on our Facebook album.