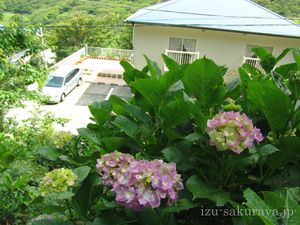 The Japan Meteorological Agency announced that
Tokai area including Shimoda got into the rainy season on May 28th, but
now we are in the long intermission.
The weather forecast says the sun
will stay in a next week and it's getting hotter and hotter over the
weekend.
By the way, I took this picture on the slope on the other
side of Pension Sakuraya.
The flowers of hydrangea are changing its
color and getting more beautiful.
I love this stage of coloring better
than full colored and full bloomed hydrangea.