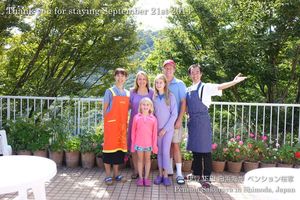 They are from the United States of America and have lived in Tokyo since 2 months ago.
On the 2nd day, as we had very strong north wind they went to Tatado Beach in Shimoda, and they went to the same beach again because of the wind on the 3rd day and went to Onsen in Kawazu town after the beach.
When they had dinner I talked about the career of my wife and me, that we were classical ballet dancers long time ago, and after that, they showed us their children' s picture of ballet before moving to Japan.
We had very good time with you and look forward to meeting you again.
Thank you very much for staying with us.