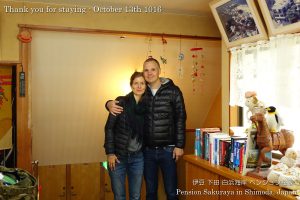 They are a couple from Berlin in Germany and stayed for 3 nights at Pension Sakuraya.
During their stay in Shimoda unfortunately it had been windy and cloudy on the 1st and 2nd day, but they went to Shimoda city in the strong north wind.
However it became sunny on the 3rd day so they were able to go to the beach to swim under the blue sky.
Thank you for staying with us.
– – – – – – – – – – –
My friend from Germany had lived in Shimoda before.
She was a member of our chorus group in Shimoda city and had performances together before the nuclear power plant accident in Fukushima.
For this time she recommended them to come to Shimoda city and to stay at Pension Sakuraya.
I was very happy and excited to hear this story from this couple.
Thank you for recommendation, my friend, Sonya.