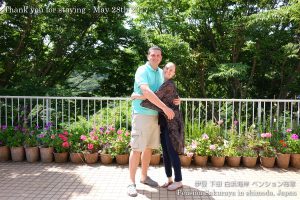 They are from the United States and live in Tokyo.
It was the 1st time to visit Shimoda and they stayed with us for 3 nights.
They brought their own bikes by car and took : a cycling to Shimoda on the 1st day.
On the 2nd day they went to Shimoda by car and walk around in the rain.
On the 3rd day it became sunny and they went to the nearest beach, but the water was very cold to swim.
We had great time with you!
Thank you very much for staying with us.