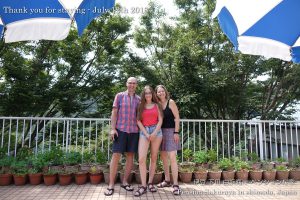 They are a family from Germany and came to Japan for the 1st time.
After they arrived in Japan they drove to Nikko, Kawaguchiko, Nagoya and came to Shimoda.
During their stay in Shimoda they went to the nearest beach to swim and Ebisujima island for snorkeling.
They were so excited to see a lot of fishes in the water!
After they checked out they went to Narita airport to return the rental car and are going to Kyushu by Shinkansen.
Have a nice holiday and a great journey in Japan!
Thank you very much for staying with us.