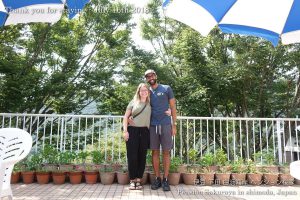 They came from the United States to Japan for 2 weeks sightseeing for the 1st time.
After their stay in Tokyo and Kyoto for several days they came to Shimoda and stayed at Pension Sakuraya for 3 nights.
During their stay it had been sunny and they went to the beach everyday.
We were very happy to welcome them and to serve them dinner and breakfast.
Thank you very much for staying with us.
Come and visit Japan again in the future!