Main page / Information and Facilities / Charges /Access / Reservation / Room availability / What is Pension?






Come and Visit Guest House "Pension Sakuraya" Kids Friendly Accommodation

Blackship (Kurofune) Festival: Time Travel to the Dawn of Japan's Modernization

Black Ship Festival 2020
was cancelled due to Corona Virus

80th Black Ship Festival 2019 in Shimoda
from May 17th (Friday) to 19th (Sunday)



Pension Sakuraya is a family running guesthouse which is located in Shirahama beach in Shimoda, 10 minutes ride on bus or car from down town, the area of Black Ship Festival in Shimoda.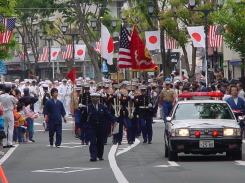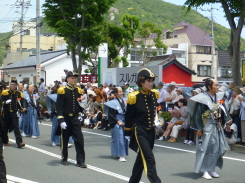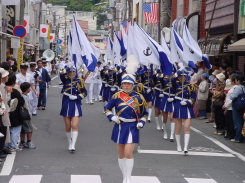 The most famous festival of Shimoda celebrated in honor of the arrival on the Blackship and the opening of Japan to the world.
It is rich in international color featuring a ceremony at the Shimoda Park, the parading of the U.S.Naval marching bands and so on.
"The Blackship Journey" in which participants dressed as characters such as Commodore Perry and shogunate officials down to Ryosenji Temple draws especial attention from the watching crowd.
Onlookers are enwrapped in such excitements as if drawn back in time a century and half ago.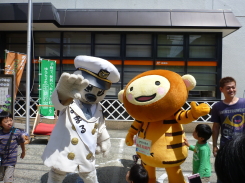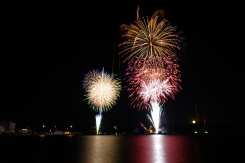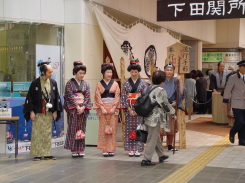 Calender of Events (This festival is held from 3rd Friday to Sunday in May.)

Click this map
FRIDAY: May 17th Friday
Fireworks (from 8:15pm), "Open Door"Bazaar, Sunset Consert
SATURDAY: May 18th Saturday
Commemorative Ceremony,

Official parade

, "Open Door" Bazaar,

Historic Reenactment Play,

Sunset Concert,
SUNDAY: May 19th Sunday
"Open Door" Bazaar,

Historic Reenactment Play,

Japan-U.S. Raft Race, Festive Parade of citizens in Edo,
Shimoda Map for Black Ship Festival - Click this small map to get big one
Black Ship Festival Map & Schedule by Shimoda-city tourist office
<You can click on the image to see a bigger picture.>
...
<You can click on the image to see a bigger picture.>
I took these photos at "Madogahama Seaside Park" near Shimoda Harvor, which is a good viewing spot for the fireworks. You should go to the free parking lot in this park as early as you can.





Copyright (C) Pension Sakuraya All Rights Reserved




---







Presented by Pension Sakuraya in Shirahama Beach

Main page / Information and Facilities / Charges /Access / Reservation / Room availability / What is Pension?

Japanese site