Main page / Information and Facilities / Charges /Access / Reservation / Room availability / What is Pension?







Come and Visit Guest House "Pension Sakuraya" Kids Friendly Accommodation



<Shimoda Port where "The Black Ship" arrived in 1854>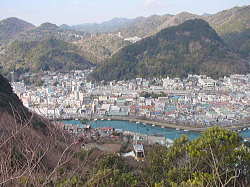 Blessed with its rich hot springs, its exquisite mountain and ocean scenery and mild climate throughout the year, Shimoda is the biggest tourist resort in southern Izu peninsula attracting many visitors there.
PROLOGUE
The city had played a signifficant role in building modern Japan during the latter years of the Edo period. It was 1854 when the "Black Ship" - the U.S.Naval fleet led by Commodore Perry - arrived in Shimoda. In the following year, the two countries entered into diplomatic relations for the first time in history when they signed the U.S-Japan peace treaty here at Shimoda. In that same year, Japan also concluded a peace treaty with Russia too when Admiral Putyatin, with the warship "Diana", arrived in the port of Shimoda.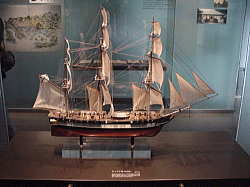 In 1856 the first Consulate General of the United States to Japan was set up here in Shimoda. So in such a manner Japan had finally opened its long closed doors to the world at this historic site Shimoda.

Shimoda city concludes sistercity relations with Newport city, Rhode Island of the U.S., home of Perry, and continues intimate exchange through mutual protocol visits, home-staying programs and so on. "The Black Ship Festival" is also celebrated by the people in Newport too.

Also in memory of the historical fact that Japan and Russia had helped each other in time of the great tidal wave right when the ship "Diana"arrived in Japan, the "Friendship Peninsula - Russo-Japan Society" was organized in 1992, whereupon the two contries have sustained warm and friendly exchanges, for example the historic meeting of the descendants of those who were present at the treaty-signning ceremony.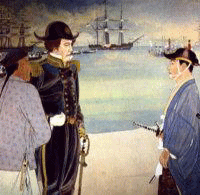 Newport
A beautiful port in the southeast of Rhode Island state of the U.S. It has flourished as a maritime city ever since the 17th century, and further developed as an exclusive health resort in the 19th century.
It is known as the host city for the America's Cup of Yachting, and as having the "Tennis Hall of Fame".


Special thanks for this 3rd picture. Black Ships Festival in New Port 2004



<Link>

Basic information of Shimoda's history from Japan guide.com



Copyright (C) Pension Sakuraya All Rights Reserved

---







Presented by Pension Sakuraya in Shirahama Beach


Main page / Information and Facilities / Charges /Access / Reservation / Room availability / What is Pension?

Contact Pension Sakuraya Japanese site