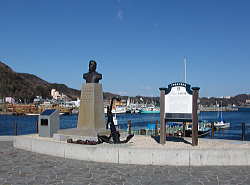 <Monument of Perry's Arrival>
On the pedestal of the monument is a bust of Perry, and an achor presented by the U.S.Navy is added as accessory.

*Monument of Perry's landing
In 1853 Commodore Matthew C. Perry sailed into Uraga in Tokyo Bay and asked that Japan open itself to foreign trade. Next March 1854, he returede to Japan with a squadron of nine ships (3 steam ships) to press his demands. Two ships were dispached to Shimoda to investigate whether it could supply the water, charcoal and other materials needed by the American vessels. After the conclusion of the Treaty of Kanagawa, seven of Perry's ships entered the port of Shimoda. This monument was established to commemorate the landing of Perry and the sailors of his squardon at this point. The pedestal of the monument is topped by a bust of Perry and the anchor was present from the U.S. Navy. The monument was designed by Tokujiro Tokuda.

Message from President George Bush to the city of Shimoda on the ocasion of the 150th Anniversary of U.S.-Japan relations.
This 150th anniversary of the 1854 signing of U.S.-Japan Treaty of Peace and Amity is a time to celebrate the strong relations between our two countries. Commodore Matthew Perry sailed to Japan in 1853 to establish trade between our two great nations. Today, we are building our strong relationship and partnership and promoting peace and economic prosperity. America is greatful to the people of Japan for our deep and enduring friendship.