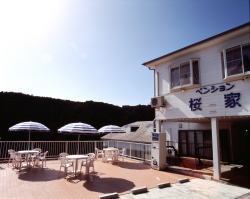 Information to reserve for Ryokan "Pension Sakuraya" in Shimoda


Please check the charge before booking.
And please make it sure that our Pension is in Shimoda, Shizuoka Pref. near Tokyo, not Wakayama Pref. near Osaka and Kyoto.
As we don't have any single rooms the single traveler is not accepted during busy season.
Thank you.

*Deposit Policy
We ask you to transfer the deposit to our bank account for busy season.
*Busy season: New Year (Dec 31st and Jan 1st), Golden Week (May 1st, 2nd, 3rd, 4th and 5th), Summer (July, August and Weekend in September) & busy holidays

Deposit: 50% of the total amount

Bank Name: Shizuoka bank
Branch: Shimoda
Address and City: 2-1-14 Shimoda-city, Shizuoka Pref.
Swift Code No: SHIZJPJT
Account type: Futsu yokin (ordinaly account)
Account number: 0534149
Account Name: Sakuraya Yamamoto Hiroshige
*The transfer issuing fee would be on the customers.

Pension Sakuraya Bank Account for Printing ( Click here and take it to the bank)

If you cancel 11 days before the reservation date we get you refund for your deposit except the transaction fee, 1000 yen.




No charge will be made if we receive notice of cancellation in writing (e-mail or fax) more than ten (10) days before the reservations date.

If cancellation in writing (e-mail or fax) is received ten (10) days to one (1) day before the reservation date, the charge will be 50% of the total amout.

If cancellation is made on the reservation date or you do not contact us, you will be charged 100% of the total amount

If some of guests (group or family) cancel their reservation the cancellation fee would be charged.

If you cancel your reservation more than 10 days before the reservation date and if you have already transferred the deposit, we refund it except the transmission charge 1,000 yen.

If you wish to change you reservation (not cancels, but changes the date of their reservation), we need at least 3 business days (Monday through Friday 9:00 to 17:00 Japan Standard Time) prior to the reservation date to contact us to make the necessary changes.

If you cancel the remainder of your stay at the Ryokan, you will be charged a 100% cancellation fee. For example, you make a reservation for 5 nights and stay for only 2 nights then you will be charged a 100% cancellation fee for the remaining 3 nights.

Please remember that we are not large businesses and cannot quickly find other customers to fill an empty room.




We accept a reservation in English via E-mail, fax or telephone.
E-mail: pension@izu-sakuraya.jp

Fax 0558-27-2130 (Inside Japan)
+81-558-27-2130 (from outside Japan)

( In case of e-mail or fax, please make a reservation 4 days or more prior to arrival date.)

Telephone 0558-23-4470 (Inside Japan)
+81-558-23-4470 (from outside Japan)
If you call Pension Sakuraya in English, please speak to Mr. Yamamoto.

<Please inform us the followings.>
( *Please reconfirm your arrival date in Japan before bookin, and notice that Japan is 17 hours ahead of Los Angeles and 9 hours ahead of London.)

-----------------------------------------------------------------------
Name:
Male or Female:
Address:
E-mail address:
Home telephone number (Incl. Country Code):
Cell phone number if you have:
Arrival Date in Japan ( Month / Day / The day of the week / Year ):
Check-in Date:
Number of nights to stay:
Check-out Date:
By car or train to Shimoda:
Number of guests:
adults
children ( 4-12 years old )
baby ( under 3 years old , no bed no meal)
Number of rooms:
Room type:
Western style ( all rooms are twin: 2 single beds with ensuite shower and toilet )
*There is no extra bed or mat for the Western style room.
Japanese style ( with public shower, bath and toilet )
Number of meals:
dinner
breakfast
-----------------------------------------------------------------------

In case that you can not receive our reply in 2 or 3 days, please send us E-mail again or call us by telephon.





Main page / Information and Facilities / Charges /Access / Room availability / What is Pension?

Japanese site



Please click here to get a "Pamphlet" included a map of Sakuraya.
This is a printable pamphlet( PDF file: 560kb).
If you want to view this pamphlet you need a "Acrobat Reader".
You can download from this site.