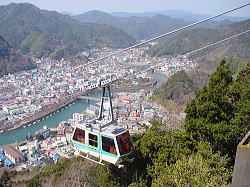 <Mt. Nesugata-yama Cablecar>

The mountain was named "Nesugata" because of its shape resembling a woman reposing when seen from the city.
A cablecar is available to the top, offering a great view.
You will also find a reconstrudted model of the former watchhouse for the "Black Ship" that used to stand here.